To meet our clients' growing requests for additional services from Edge Consultants, we are happy to announce a new division called Peak Commissioning. This division will be headed by David Horan who has a wealth of experience leading commissioning teams.

Introduction
David is an experienced building services engineer with over 15 years of working on projects that involve both design and verification of building systems. Through his extensive work in the commissioning industry, David has gained a unique understanding of the processes required to successfully transition a building from the design stage, through construction and into operation. He has developed and sharpened his expertise while working on a wide range of projects including commercial, residential, healthcare, and government facilities. David is committed to achieving energy efficiency in buildings by ensuring systems are operating as per the design intent. He is a certified Measurement and Verification Professional, and a member of the Association of Energy Engineers. 
What is Commissioning?
The Commissioning Process is a quality-focused practise for enhancing the delivery of a project by achieving, validating, and documenting the performance of facility elements in meeting the objectives and criteria of the owner.
Without commissioning, issues go unnoticed for months if not years and eventually become accepted as part of the building. Contractors confirm that systems are installed and are operational, however they do not subject the system to rigorous testing to assess quality of performance in all possible situations. The purpose of the commissioning process is to identify areas of underperformance caused by conflicts in the system as early as possible. One such common conflict is that of the heating and cooling system operating simultaneously to maintain setpoint. This is usually caused by a faulty sensor, a mis-typed piece of programming or simply a manual adjustment to the equipment in an earlier test phase that was simply forgotten. This scenario results in the building manager receiving a larger than expected energy bill. In discussion with the tenant, it will be ascertained that no temperature setpoints have been adjusted and the comfort level of the building is as expected. This elevated energy usage then becomes the baseline for the building. Effective commissioning eliminates this scenario and ensures a cost effective, energy efficient work/living environment.
The effects of commissioning are long lasting. Owners expect a smooth transition from construction to operation thus ensuring efficient facility management and operation. Commissioning is especially important for energy management as owners are looking to build more energy efficient and sustainable buildings. To achieve this, the commissioning process must start as early as possible. There are three distinct phases in the commissioning process: design, construction, and post-construction.
Design Phase
During the design phase, the commissioning provider facilitates group discussion with the design team. The intent is to ensure the owner's project requirements and basis of design are aligned. The commissioning provider will also perform a design review and provide a commissioning plan for the project team. This provides the team with clear expectations and accountability for the duration of the project.
Construction Phase
In the construction phase, the focus of the commissioning process evolves to include site activities and coordination with the construction manager and sub-contractors. The commissioning team now expands to include the owners, consultants, and contractors with the focus on maintaining the project goals and efficiently resolving problems that are encountered. The commissioning provider will work in parallel with the construction manager to provide input on scheduling, commissioning meetings, construction checklists, and document tracking. Regular site reviews of equipment and systems with the contractors is key to the success of this phase. The commissioning provider will also create test procedures and criteria to allow the construction team to demonstrate the building and its systems are operating efficiently.
Post Construction Phase
As we move to the post construction phase, the commissioning provider ensures the building is operating efficiently as per the owner's project requirements. Even more importantly, we confirm the required level of training has been provided to operation staff and stakeholders. With the increasing complexity of building systems, the commissioning process should continue after the building has been handed over to the end user. This will include seasonal testing (where required) and periodic reviews to ensure the building is maintaining its performance goals. A successful commissioning process should also empower operating staff to continue the testing procedures periodically while operating & maintaining the building.
How is Peak Cx by Edge different?
It is a misconception that the commissioning process is a "check the box" exercise. Simply collecting paperwork, in our experience, leads to confusion and frustration within the team and a substandard product for the owner. At Peak Cx by Edge, we believe in the "Why" behind commissioning procedures and activities. When team members understand their role and what is expected of them, projects are delivered under budget and on time. Peak Cx by Edge takes a hands-on approach to commissioning which involves spending time on site reviewing systems with contractors. This identifies issues at an early stage and allows time to resolve them with minimal disruption to the project.
Edge Consultants have extensive experience in energy modeling services, mechanical HVAC design and building optimization, as well as monitoring energy and air quality in buildings. As part of the Edge team, Peak Commissioning's aim is to optimize the building's performance by providing feedback to the design and construction teams throughout the project. This ensures the original goals align with the project during construction, commissioning, balancing and final operation.
Our team are well versed in mechanical and electrical design, however as a company we do not offer these design services in conjunction with commissioning services as we believe this is a conflict of interest. What we do offer our clients is a consultancy service that is completely independent of other design disciplines. We pride ourselves on being an impartial expert and facilitating a balanced approach to building integrated design. This provides the client with optimum value and peace of mind that their project goals are achieved.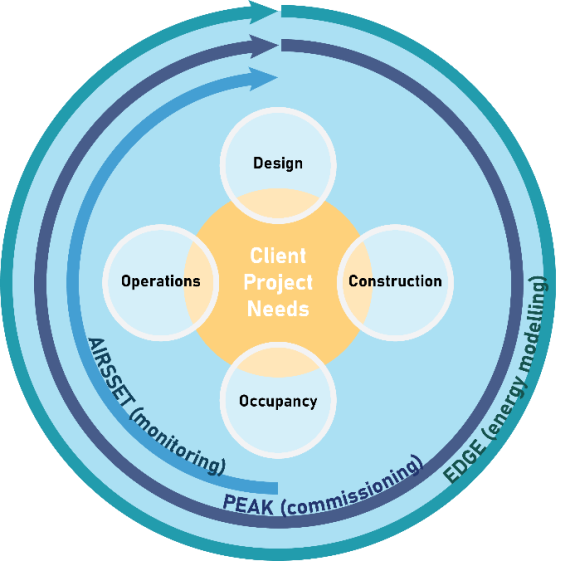 How to contact us
Not all commissioning services are the same so please contact us at peakcx@edgec.ca and we will work with you to identify the services you require to ensure that you comply with all prerequisite standards and codes while also achieving your project goals.