Happy International Women's Day to all the women in the world! We have taken this opportunity to celebrate all the brilliant, successful, and powerful women we have at Edge and Operto. Proudly, one of our values at Edge and Operto is to empower the bold and professional presence of women in the workplace. Not only are we strong supporters of the #EachForEqual movement, we also believe that gender balanced workplaces are the future.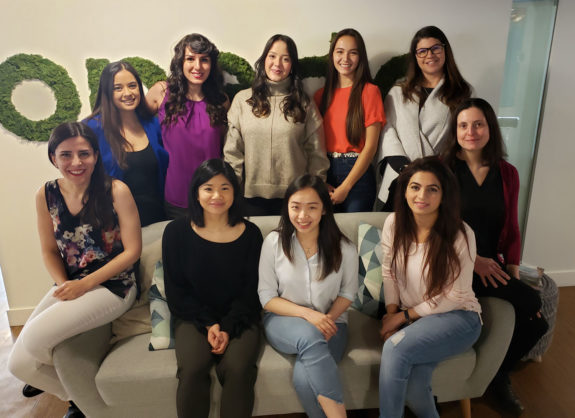 The story behind International Women's Day
International Women's Day stemmed from the labour movement to become a UN-recognized annual event. 15,000 women marched through New York City in 1908 demanding shorter working hours, better pay and the right to vote. A year later, the Socialist Party of America announced the first National Women's Day. Austria, Denmark, Germany, and Switzerland were the first countries to celebrate this day in 1911. Technically, this year is the 109th International Women's Day. UN's theme for the 2020 is "An equal world is an enabled world".[1]
Do we have an International Men's Day?
Indeed! November 19th is marked to focus on men's and boy's health, improve gender relations, and highlight positive male role models. In 2019, the theme for International Men's Day was "Making a difference for men and boys".
A lot is happening for women around the world and in Canada
Celebrating the success of women is exciting but shining a spotlight on progressive action that helps advance women is even more important. Progress towards gender equality is growing; however, we still have a long way to go. Only 27 out of 195 countries celebrate International Women's Day as a national holiday.
In Canada, women in the core working ages of 25 to 54 earned an average of $26.92 per hour in 2018, while their male counterparts earned $31.05.[2] In other words, women earned $4.13 (or 13.3%) less per hour, on average, than men, or $0.87 for every dollar earned by men. Recent studies indicate that, in general, the gender wage gap has narrowed over time, both in Canada and elsewhere. However, given that women in Canada have surpassed men in educational attainment, diversified their fields of study at post-secondary institutions, and increased their representation in higher-status occupations, the persistence of gender-based wage inequality warrants continued attention.[3]
Women in STEM (Science, Technology, Engineering and Mathematics)
Edge and Operto are strong supporters of women in STEM. We hope to encourage young girls to be excited about science, technology, engineering and mathematics through leading by example. Combined, our offices are approximately 40% women (almost twice the percentage of Canadian working women in STEM in 2016[4]). Furthermore, we strive to empower our female-identifying employees every day – not just on International Women's Day.
Proud to Be a Woman
As women, it is part of our social responsibility to be a voice for the voiceless. We should start appreciating our own, and each other's worth. Being all parts of a whole, we should support, collaborate and inspire one another. The International women's Day Campaign states that "our individual actions, conversations, behaviours, and mindsets can have an impact on our larger society". Therefore, let's all be a positive role model for each other, from our colleagues at work to our friends and family, even our children who are the inheritants of the future we are building.
"There is no limit to what we as women can accomplish."
– Michelle Obama
---
[1] (3.3.2020). International Women's Day 2020: History, Strikes and Celebrations. Ref.
[2] Statistics Canada, Labour Force Survey, table no. Ref.
[3] (11.10.2019). The Gender Wage Gap in Canada: 1998 to 2018. Ref.
[4] (11.27.2015). Gender Differences in Science, technology, Engineering, Mathematics and Computer Science (STEM) Programs at University. Ref.